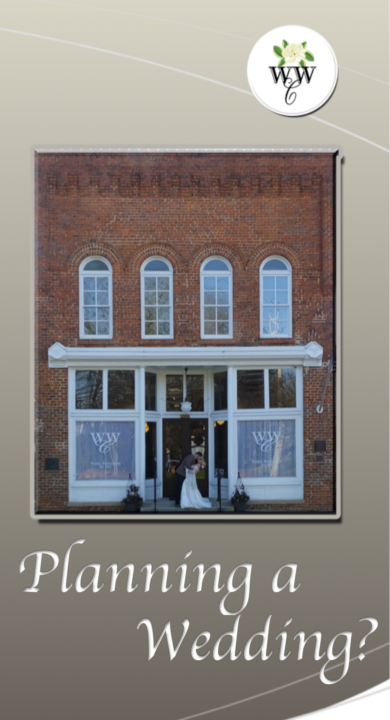 Weddings
at the
Historic Belk Building
The Belk Building, nestled in the heart of Waxhaw's historic district, is the ideal spot to host your wedding. Dating back to 1894, it has served many purposes, but under the stewardship of the Waxhaw Woman's Club, it has been lovingly restored and now shines like a piece of fine old silver. The charming building boasts high beadboard ceilings, dark stained wood floors, and a lovely staircase ideal for making a grand entrance. Tucked outside is a quaint courtyard, perfect for a bouquet toss!
The Belk Building at the Waxhaw Woman's Club offers the charm of a historic building, the location of downtown Waxhaw, and the opportunity to stage your wedding perfectly.
---
Historic Charm and Modern Convenience…
The main room seats 127 guests comfortably for a sit-down dinner. All rental fees include use of the catering kitchen, tables, chairs, and professional cleaning.
Outside of the building you will find the quaint charm of the Town of Waxhaw. With features like the overhead bridge, the Woman's Club garden, and the old live oaks, unique photo opportunities abound!
---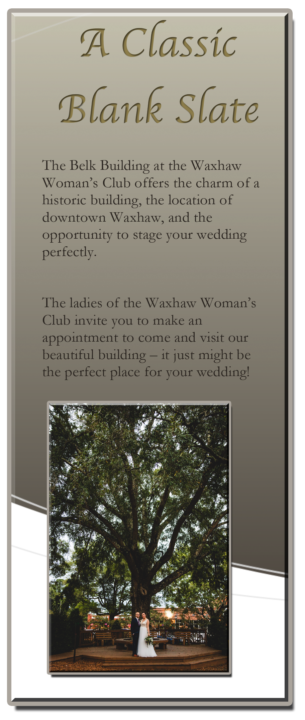 Features of a Belk Building Wedding…
Upstairs Bridal Suite where the Bride and her attendants can dress.
Enclosed outdoor space for cocktails, photos, etc.
Private Garden, a great place for a photo shoot.
Beautiful staircase for bridal presentation.
Beautiful hardwood floors, high ceilings, and open floor plan.
Recommended preferred vendors.
Alcohol allowed (with required permits).
On-site parking.
Handicapped accessible.
Opportunity for engagement/wedding pictures prior to wedding day. (Must check availability.)
---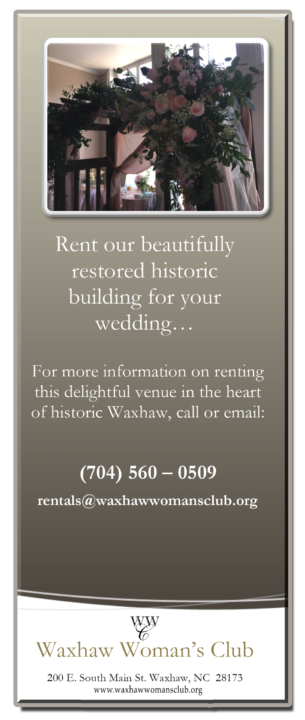 Wedding Packages
1-Day Wedding Rental
Allows access to the Waxhaw Woman's Club from
8 a.m. – 11 p.m. on a single day.
2-Day Wedding Package
Access to the Waxhaw Woman's Club from
8 a.m. – 11 p.m. on two consecutive days.
Weekend Wedding Package
Access to the Waxhaw Woman's Club from 8 a.m. on Friday through 11 a.m. the following Sunday
---
If you would like to tour our beautiful building,
please contact the
Waxhaw Woman's Club at (704) 560 – 0509
or email
rentals@waxhawwomansclub.org.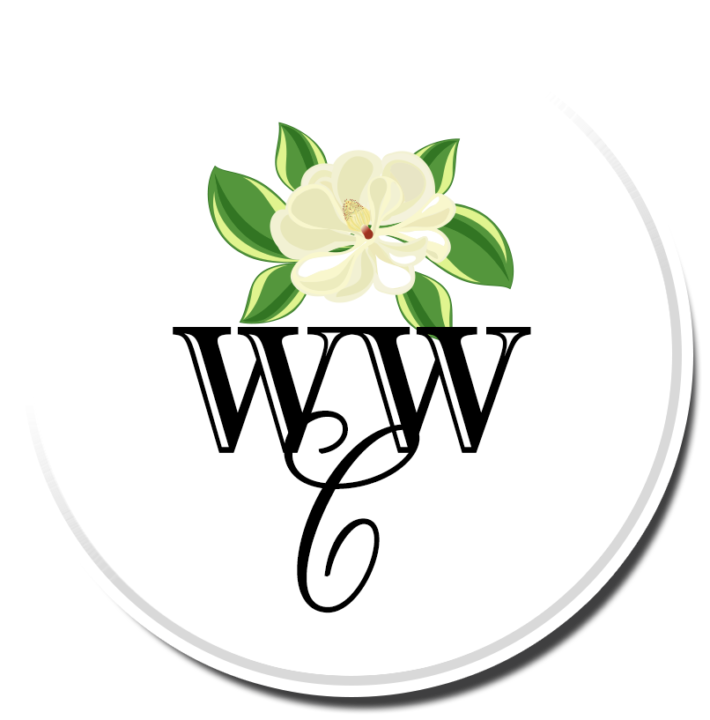 Follow us on social media: